Personal Import Service
While we strive to stock a range of high quality vehicles, we may not have exactly what you're looking for. Fortunately for you, we're happy to use our knowledge and contacts to source a vehicle that fits your requirements, all for a very competitive fee (see payment structure).
When using our personal import service, you could save thousands on the retail price of the vehicle in the UK, as well as find something unique to your personal taste. Take a look at the step by step process below to understand how it works.
If you are interested in our service, feel free to send us an email through the contact form or contact us on the number at the top of the page.
Step 1
Get in touch with us and let us know what you're looking for, as well as the budget you have in mind.
We can source any Japanese car and plenty of American cars as well, all from Japan. We don't require any outrageous fees up front to help you find what you're looking for, just let us know the specifics and we'll provide you with some examples and the prices they sold for.
Step 2
Provided you're satisfied with what's achievable within your budget, we'll go ahead and start sending you over vehicles that fit your criteria. We're happy to communicate with you via Messenger, Whatsapp, Email – whatever suits you. These are the sort of images you can expect to see: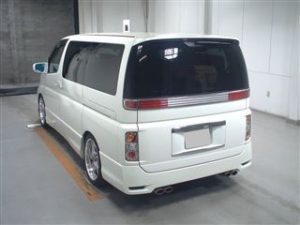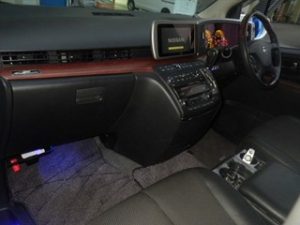 We will provide you with a translation and explanation of the auction sheet, if you're satisfied with the condition of the vehicle then we will require a £350 bidding deposit in order to bid. This deposit will go towards the cost of the vehicle and is refundable up until the point that we win a vehicle.
Step 3
 Congratulations, by this point you've won a vehicle. Within a week you will have your invoice totaling the costs and payment structure (more info below). The vehicle will then be transported to the nearest port and be booked onto the next available vessel for transport to the UK.
Step 4
 The vehicle arrives at the docks where it is collected by us for the services below:
Basic Waxoyl treatment to areas of bare metal at risk of rusting (rust prevention)
Rear foglight fitment (MOT requirement)
Decore of rear cats (Elgrand specific)
MOT
Registration in your name
Once the vehicle has been registered in your name, we'll fit the number plates and you can collect your new car – and trust us, it'll be worth the wait; if not just for the saving alone.
Payment Structure
When using our Personal Import Service, we charge a fixed fee of £850. This covers labour for the whole process, including everything listed in step 4, making us one of the most competitive importers out there. Not to mention the fact that our export costs (post auction costs to export the vehicle from Japan) are some of the lowest in the industry – saving you hundreds more than the average agent.
When discussing the budget for your vehicle, we will always talk in OTR (On The Road) terms, this prevents any possibility of exceeding your budget during the process.
At no point is there any scalping on costs. Our commission is the only profit we make on the personal import process, and we will always be happy to provide example invoices before we go ahead and bid on your behalf (many costs such as MOT, Fuel, Registration etc will always be fixed)
The overall import process takes 10-12 weeks from the point of winning a vehicle and the payment for the vehicle will be divided into three sections.
-40% of the total price to be paid within a week of winning the auction, consisting of the total exported cost plus freight insurance (if opted for)
-40% of the total price to be paid upon arrival of the vehicle, consisting of Customs Duty, VAT, Clearance costs.
-20% of the total price to be paid upon registration of the vehicle, consisting of our Commission, Registration, MOT, Fuel costs.
Example invoices are available upon request.